Flufy lemon rosemary cake,wid lemon cream cheese frosting recipe. Fluffy Lemon Rosemary Layer Cake with Lemon Cream Cheese Frosting. This is my favorite fluffy yellow cake recipe that always comes out tender and moist! Now frost your cake, take some pictures, and share with someone special!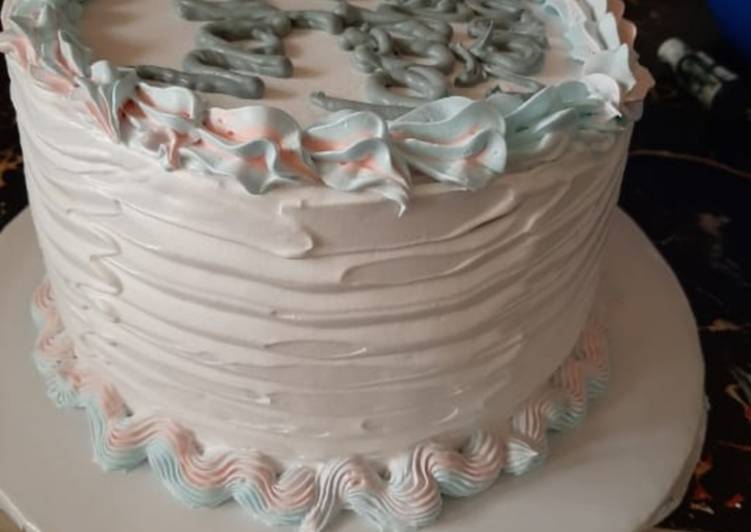 This soft and fluffy lemon velvet cake has lemon extract, lemon zest, and hot lemon water to create one light, fresh lemony flavor that gets even better the next Lemon Cream Cheese Frosting For The Win! No velvet cake would be complete with a signature sweet and tart cream cheese frosting! Beat cream cheese, butter, lemon juice, lemon rind, and vanilla together until smooth and fluffy. You can have Flufy lemon rosemary cake,wid lemon cream cheese frosting recipe using 20 ingredients and 9 steps. Here is how you cook it.
Ingredients of Flufy lemon rosemary cake,wid lemon cream cheese frosting recipe
Prepare 21/2 of / 280g All purpose flour plus extra for dusting.
You need 1 cup of butter milk, room temperature.
Prepare 13/4 of cup/343grm granulated sugar(divided).
Prepare 10 of tbsp/140grms unsalted butter, melted and slightly cooled.
Prepare 3 tbsp of vegetable oil.
It's 2 of tspn vanilla extract.
Prepare 1 tbsp of lemon zest.
It's 11/4 of tsp/5grms baking soda.
Prepare 1/4 of tsp/grms baking soda.
Prepare 3/4 of tsp/3.6grm salt.
Prepare 1 tbsp of fresh rosemary(minced).
Prepare 6 of large egg yolks.
Prepare 3 of large egg whites (room temperature).
You need of For the frosting.
You need 224 g of cream cheese softened.
You need 1/2 of cup/1stick /112g unsalted butter softened.
Prepare 1 tbsp of lemon zest.
You need 2 tbsp of lemon juice.
It's 1 tsp of vanilla.
Prepare 21/2 cups of confectioners sugar.
The general idea of the recipe is great, but it's way too much sugar. The recipe for this Lemon cake with Cream Cheese Lime Frosting is probably one of the most extensively tested recipes in our blog. In a medium bowl, beat the heavy cream just until stiff peaks form. I noticed your lemon blueberry cupcake uses a different cake base, with all purpose flour and an extra.
Flufy lemon rosemary cake,wid lemon cream cheese frosting recipe instructions
Preheat oven to 350℉. Grease the two cake pans, dust pans with flour and tap out any excess.
In a large bowl,whisk together flour,baking powder,baking soda,salt and 11/2 cups sugar, in another bowl, whisk together the melted butter, butter milk, oil,vanilla, lemon zest,rosemary and egg yolks.
For the meringue, in a bowl beat egg whites at a medium speed until foamy. With machine running,stream in the remaining 1/4 cup sugar, beat at high speed just until stiff peaks form. Gently transfer to a bowl and set aside.
Add flour mixture to the empty stand mixer bowl fitted with whisk attachment.with mixer running at a low speed, gradually pour in butter mixture and mix for about 10sec.mix until combined.
Gently fold in 1/2 of the meringue just until incorporated. Then fold in the rest of the meringue. Be very gentle to not deflate the air in the meringue. You will have few white streaks in the butter. Divide butter evenly between your prepared cake pans.
Place pans on a half sheet pan and bake on the center rack in the oven for 20-25min. Bake until the cake layers begin to pull away from sides of pan.
When it's ready cool cakes in pans on wire rack for20 min. Run a thin bladed knife around the sides of the pans to loosen cakes then invert on a greased wire rack, allow to cool completely before frosting.
For the frosting. Combine all the ingredients in the bowl. Mix on medium speed until combined and creamy.
Enjoy your fluffy lemon cake with some cool drink.
Joanne Chang's moist, lemony cupcake recipe yields fresh-tasting and not overly sweet treats by In a medium bowl, using a handheld electric mixer, beat the cream cheese at medium speed until light Frost the cupcakes and garnish with lemon zest. The cupcakes can be refrigerated for. Meyer lemons are a type of lemon, they are a cross between a lemon and a mandarin orange. Frost cake: Cake can be covered. This recipe mixes lemon zest into lightly textured cupcakes that are then topped with a tangy lemon-cream cheese frosting.